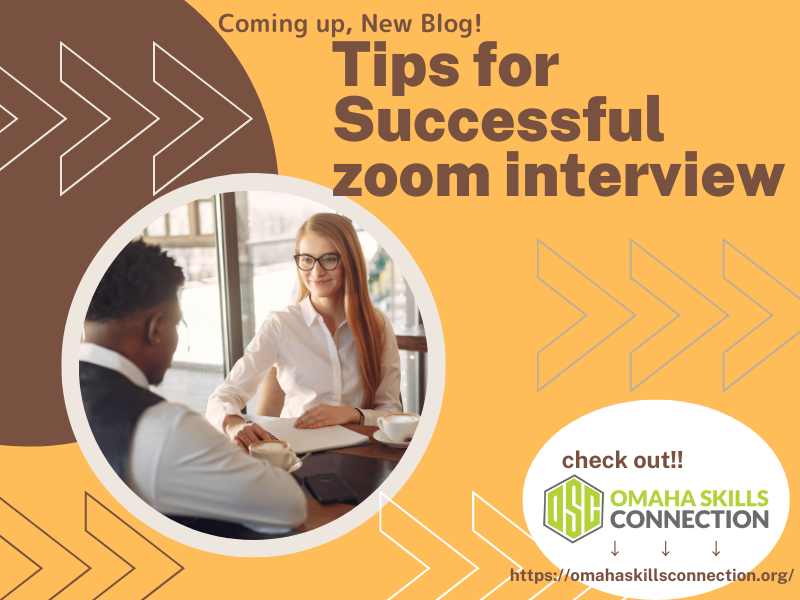 By: A student at the University of Nebraska at Omaha, As part of Heather Nelson's service learning class.
With the increasing number of remote workers these days, preparing for zoom interviews is becoming a must. Make sure to register, set up, prepare in advance, and understand the unique features of online interviews before you take an interview. This blog is to explain everything from how to use zoom and tips for an online job interview. Let's prepare together and get you a job!
First thing first, download the zoom app on your device, and create account for yourself. You can use zoom without the application, but it is recommended downloading the app as it can be opened quickly. First, create a password for the zoom account or use google account you already have. (As for the meeting setup, you don't need to do that since most companies share URL which already have done a pre-set up for the interview. You can use that URL to join the meeting.)
All right, that's enough about the basic part! Now, let's dive in to the business, how to prepare for itself, leave a good impression, and have a successful zoom interview!!
《Three things to prepare in advance》
1.clothing – It is not recommended that you attend the interview in your regular clothes just because you can attend from home. Wear appropriate clothing so as not to be rude to the other person and to leave a good impression and get a job.
2.room environment – In ZOOM, not only your face but also your background will be reflected. If your room is messy, it may give a negative impression that your personal life is sloppy (and your attitude toward work may be sloppy as well). So, go into the online interview with a clean and tidy room.
3.connection – It is also important to check the network connection beforehand. If you go for an online interview in a place with an unstable communication environment, the screen might stop and your half-awake ugly face will be shown all the time, or the audio will be cut off, and you will not be able to convey what you want to say. Check your home Wi-Fi connection in advance and make sure you are interviewing in a well-connected location.
《Three points to make a good impression at a Zoom interview》
1.your appearance on the screen – In a ZOOM interview, interviewers can only make judgments based on what they see on the screen. Unlike a face-to-face interview, what you see on the screen will greatly affect the impression you make, so be careful to make yourself look good on that screen. For example, the atmosphere and brightness of your room will also affect the impression you give to the interviewer. Turn on the lights so that your face looks brighter, smile more than usual, and try to show your good part to the interviewer.
2.prepare and be on time – 10 minutes before the interview, join the zoom and test your microphone, speakers, and camera. (When you connect to zoom, you will see a screen to check them.) Then, be in the zoom room 5 minutes before the scheduled time. Being on time is one of the most important aspects of the interview.
3.posture and distance from the camera – One thing that is often forgotten in online interviews is your posture and the distance between you and the camera. Many people tend to hunch over without realizing it and only put their face close to the camera. I understand! I often do that too… But there is a big difference in the impression given by people with good posture and people with bad posture, so let's take care of that as well. If you have to get close to the screen to hear the sound, wear earphones, if you have difficulty seeing the screen, wear contacts or glasses.
If you are still feeling nervous about it, It is recommended that you practice and record your interview based on these tips so that you can evaluate yourself objectively.
Once you are ready to nail a zoom interview, all you have to do is do it! I hope you get that job, and wish success on your career. Good Luck!!
#zoominterview #success #jobinterview #tips #online #nebraska #OmahaSkillsCooncetion #OSC
Omaha Skills Connection is a 501c3 non-profit organization located in Omaha, Nebraska established as a result of the post pandemic era to help bridge the skills gap between education, technology and today's workforce. Omaha needs an educated, flexible and dynamic workforce in today's knowledge-based economy.  OSC connects talent to opportunity, modernizing employee development for today's workforce.